Turkey Shoot
Season 1, Episode 7

Vital statistics

Air date
March 18, 2015
Written by
Daniel Levy (teleplay),
Michael Grassi (story)
Directed by
Paul Fox

Episode guide

Previous
Next
Wine and Roses
Allez-Vous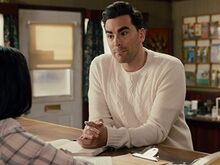 "Turkey Shoot" is the seventh episode in the first season of Schitt's Creek.
Plot Summery
Edit
Following an incident where David is unable to kill an insect in his room, Stevie, as a joke, invites David along on Roland's annual turkey shoot. To prove that he is nothing like Stevie believes him to be, David accepts. The horror that is the day for David can only be relieved by something to take his mind away from it, that something which Moira is able to provide. Because Moira is outwardly stressed, Jocelyn invites her on a girls day out to Janine's, the salon in Elmdale. Moira comes out of that situation even more stressed for a specific reason. Jocelyn may have a better handle on Moira than Moira thought. And Ted, the veterinarian, asks Alexis out on a date. Although she likes Ted in his handsomeness and the fact that he is a "doctor", she thinks Ted's best use is as a prop to make Mutt jealous.
Ad blocker interference detected!
Wikia is a free-to-use site that makes money from advertising. We have a modified experience for viewers using ad blockers

Wikia is not accessible if you've made further modifications. Remove the custom ad blocker rule(s) and the page will load as expected.