Our Cup Runneth Over
Season 1, Episode 1

Vital statistics

Air date
February 11, 2015
Written by
Daniel Levy,
Eugene Levy
Directed by
Jerry Ciccoritti

Episode guide

Previous
Next
N/A
The Drip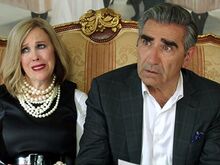 "Our Cup Runneth Over" is the first episode in the first season of Schitt's Creek.
Plot Summery
Edit
The once opulently rich Rose family, following news that their now absent business manager has left them financially ruined by not paying their taxes, are left by the government with only a modest income and one asset: the town of Schitt's Creek. Johnny purchased the backwater town over twenty years ago solely as a joke for his son David, who didn't even know about it. As it is their sole asset, they are forced to live there, in two rooms at the local motel, until they figure out a way to get back on their feet. In Schitt's Creek, they will initially mostly have to interact with Stevie Budd, the front desk receptionist who prides herself on not doing anything, and the town's mayor, Roland Schitt, a socially unaware redneck. Alexis believes she has a plan to save herself - and only herself - from this new life, the rest of her family be damned. Johnny will learn that despite his disdain for Roland, it is best to keep on the mayor's good side.
Ad blocker interference detected!
Wikia is a free-to-use site that makes money from advertising. We have a modified experience for viewers using ad blockers

Wikia is not accessible if you've made further modifications. Remove the custom ad blocker rule(s) and the page will load as expected.